About John Patrick Flanagan
John was the loving husband of Amanda and devoted father of Emma, Bridget and Jack. John grew up the oldest of six children, and as an adult cherished being part of a large, loving, Irish Catholic family. As a father himself, John's top priority was spending time with his own three children. He was most happy simply relaxing at home with his family and friends around him. People took an instant liking to John who had a keen and effortless sense of humor. He was truly beloved by all and is sorely missed every day.
John was born in Bridgeport, Connecticut and was a member of the 1982 graduating class at Fairfield College Preparatory School in Fairfield, CT. He went on to college at the University of Richmond and received a Juris Doctorate degree in 1996 from the University of Connecticut. John worked in various fields during his career. Prior to Law School he worked for Attorney General Richard Blumenthal, and later practiced law at Pullman & Comley.
After practicing litigation law, John joined forces with his high school friends Chad Jacobs and Tom Ryan to start ICR, where he served as member of the Board of Directors, the firm's General Counsel, and a founding Principal of its Corporate Communications Group. John was a driving force behind the success of the firm which benefitted greatly from John's strategic thinking and measured approach to problem solving. His culture-building attitude and mentorship of younger team members left an indelible mark on ICR that is still felt today.
John was a member of the Gaelic American Club and relished his Irish heritage often saying that St. Patrick's Day was his favorite holiday. He also enjoyed watching the Yankees, UCONN basketball, and following politics and current events. John was never happier than when he was with his wife and children enjoying nature, whether hiking at the Audubon, collecting shells at Penfield Beach, or watching the birds in his own backyard.
John received an unexpected diagnosis of metastic neuroendocrine cancer in the Fall of 2008 and passed away just two months later. John's courage during this time was inspiring. In the end John counseled all of us to "focus on the 44 wonderful years I have had, and not on having been given too little time."
John PatrickFlanagan (Aug. 27, 1964 - Dec. 24, 2008)
###
Thoughts of John from his Friends and Family
Matthew Flanagan
Being blessed with an older brother is a fortunate situation. For me, having John Flanagan as my older brother of 16 months was the greatest thing that ever happened to me.
It's hard to capture the beauty of having such a relationship because the effects are all-encompassing. John and I were very close, and as children we did most everything together. We attended the same schools and the same summer camps. We shared a bedroom, chatting with each other before falling asleep. We played sports together in the backyard, at the park, on the playing fields, and on the basketball court. We engaged in acts of adventure and mischief together, and we partied together. John and I shared the honor of being best man at each other's weddings. We vacationed every summer with our families in Maine, and we spent countless holidays together at our folks' house. This list goes on and on. As I reflect on it all, it seems that through most of my life, I had John with me. If not physically by my side, always just a phone call away.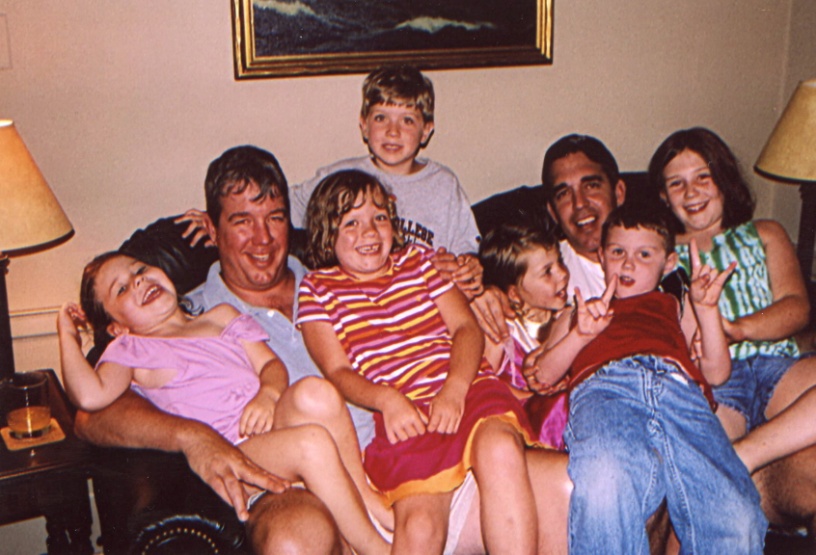 Matt, John, and the kids, 2004
Our relationship was unique in that there was never any competition or resentment. Throughout my childhood and well into my adult life, John was the ultimate comrade. He was the greatest friend, and it was extremely reassuring to know he was always present, always there to support me and come to my defense. However, John never turned a blind eye – and if I was wrong in my actions, John would quietly guide me without judgment, helping me to understand the errors of my ways. He always did this in a thoughtful manner that let me know that our relationship would be unaffected, and that he would support me as we moved forward. John provided me with the purest form of unconditional love that a person can experience. It is my belief that unconditional love is the greatest gift that one person can bestow upon another, and my brother John provided me with a steady supply of this tremendous gift every day of my life. Daily, I set aside time to think about John, the memories we had together, the wonderful friendship we shared, and what a blessing he truly was both to me and to so many others. Sometimes this can be difficult and emotional, but it keeps him alive in my heart and close to me as a brother, allowing me to embrace and cherish our special love for each other.
Matthew Flanagan
Liz Brady
More than seven years ago, I met John Flanagan when I went for a job interview at ICR, the financial communications firm that John founded with his high school friends, Tom Ryan and the late Chad Jacobs. After John made the (smart) decision to hire me, I worked closely with him for the next five years. During that time, John served as a mentor to me and taught me just as much about the business of public relations as he did about the professional world and balancing my new responsibilities with a happy personal life.
I have many great memories of working with John, and I think anyone who knew him would agree that having him in your corner was definitely a blessing. I could recount many entertaining memories I have of John, but most importantly, he taught me valuable lessons about working hard and delivering on what you promise.
John was a natural leader and always taught by example. No matter how pressed for time he was, he always completed the task at hand and paid attention to every detail. He also took the time to know what was going on in the lives of everyone on his team and taught all of us that it's important to work hard – and to play hard too. He often spoke of his favorite things in life: spending time with his family and enjoying the great outdoors. Today, these are the very cornerstones of all John Patrick Flanagan Foundation (JPFF) activities.
When I was asked to join the advisory board of JPFF two years ago, I was both honored and humbled. Looking back over the progress we have made, I think John would be quite impressed. We went from zero to 60 right off the bat, planning our first fundraising event – Team Flanagan at the Fairfield Half Marathon and 5K – just two months after the Foundation's inception.
Through JPFF, I've been blessed to meet so many people about whom John had spoken so often, including his family members and friends from various stages of his life. When I reflect on what the Foundation means and what we've accomplished so far, I see many similarities to how John lived his life. All these wonderful people from different chapters in his life have come together to accomplish our goals to the best of our ability, just like John would, and give back to the causes that support what he cared about most in life: family.
If you are receiving this newsletter, you most likely have contributed to JPFF in some way – and for that, I thank you. It is my honor and privilege to serve on the advisory board of this special Foundation and to conduct our operations in the same way John conducted his business interactions: delivering on what we have promised and having a lot of fun along the way. We thank you for coming along for the ride.

Sincerely,
Liz Brady, Advisory Board Member
Ann and Walter Flanagan
As John's parents, we welcome the opportunity to author this column for the first John Patrick Flanagan Foundation newsletter. John was born on August 27, 1964, our fourth wedding anniversary, a happy coincidence that the three of us always enjoyed. On the anniversary card from John and Amanda in 2008, John penned, "As always, thanks for getting married on this day – makes my birthday that much more special."
Our large family was very important to John, although he liked to tease that even if we had but one child, we'd have a perfect family. John was smart, funny, loyal, loving, a creative thinker, a mediator, a calming influence, a problem solver, and a big brother, who sometimes sought the aid of his younger siblings to do the menial things in his life – not always successfully. John frequently served as a counselor to his siblings when they needed advice or someone to deliver the bad news to us. These early forays into "spin" and advocacy were a harbinger of his career at ICR.
The joy John experienced growing up in his family was just a prelude to the enormous joy of being a husband and father. His fondest dreams were realized when he and Amanda became the adoring parents of Emma, Bridget, and Jack. He was never happier than when he was in his lovely yard surrounded by his wife and children or walking on the trails at the Connecticut Audubon Society, which abutted their property. Life was good, and John savored and appreciated every day of it.
He thoroughly enjoyed working with two close friends from his Fairfield Prep days and relished the challenge of building a business together. As the business grew and the company prospered, he often spoke of the capable and interesting new people onboard at ICR. Throughout his professional career, his counsel was in demand — and he was respected by all — but remained the same person we knew and loved. To quote his brother: "Even with financial success, John remained an open-hearted liberal thinker. He chose altruism over avarice."
John's courage, although never tried publicly until his illness, was amazing. When John's grandmother was faced with a terminal illness many years ago he wrote to her: "I have watched you overcome so many challenges over the last eight years, that the value of strength of conviction and belief will always be with me. I have not been challenged in my life, but I am sure the future holds its tests. Know right now that when I meet these, I will be thinking of you and truthfully I will draw strength from you." It was John, who in the end, counseled all of us to "focus on the 44 wonderful years I have had and not on having been given too little time."
We're sure that John would be humbled by and proud of the creation of the John Patrick Flanagan Foundation by Amanda, the family, ICR, and his close friends. Its noble goal to deliver to society some of the "give back" dreams he had talked about so often would be very comforting to him. We truly appreciate ICR's tremendous support in establishing the John Patrick Flanagan Foundation as well as the hard work of all who have been there to help at every turn.
Ann and Walter Flanagan
Mike Fox
"I choose to look at what I have, not what I have lost"
I still get chills when I think of those words shared by Fr. John Baran at John's memorial service. They came from a conversation he had with John in the hospital in the latter stages of his incredibly brave battle. So easy to say. So hard to live. They are humbling and inspiring.
But as I have reflected on John's life so many times over the past two-plus years, I've come to realize that those words did not come from the belated epiphany of someone who had just developed a new perspective on life. They represented how John lived his life all along.
John and I were acquaintances when I was in high school, separated by the then "chasm" of four years, but became friends after college as our paths crossed frequently on the campaign trail (when he would seek the warmth of the luxurious Chris Shays campaign RV, despite having a pack of Blumenthal for AG pamphlets in his pocket) and at the Horseshoe or whatever Fairfield or Hartford-area watering hole was on the list that weekend in our late 20's early 30's.
In 2002, our relationship began a very new chapter when I accepted (at the Horseshoe, of course) his offer to become business partners. We had discussed the idea for several months, but as much as John wanted to convince me to join, he never really put the pressure on. He knew I had to come to the decision myself and he just kept helping me weigh the pros and cons, rationally addressing every potential concern until there were none left and the decision was obvious. That was my first real taste of how John approached everything.
In the first couple years we likely spent more time with each other than we did with our wives and kid(s). We became much closer friends while our relationship also added the elements that go with being in business together.
I knew going in that John was incredibly smart and talented. It was a big part of why I decided to partner with him…I was pretty certain he knew what he was doing so even if I didn't, I was pretty sure we'd be ok. I also knew he was very competitive and driven to succeed. But it became clear to me over time that one of John's greatest skills and one of his greatest gifts was his ability to keep things in perspective, never getting overly emotional about anything and, ultimately, keeping a clear focus on the bigger picture and what really mattered most.
We sat next to each other for the better part of seven years and had thousands of scheduled or impromptu meetings as we figured out together how to build a successful business. They would all follow a fairly similar progression: I'd bust into John's office, fired-up about something whether it was a great new business opportunity or an unhappy client, and launch the issue in his general direction; John would absorb the initial rush of energy, slowly spin around in his chair, pull out one of those friggin yellow legal pads and then look up and calmly respond with a question or a statement that would immediately frame the opportunity or the challenge that we faced; I'd exhale, sit down and then we'd kick it back and forth with him always asking the questions that focused right in on what mattered; and in short order we'd have a decision and an action plan. I'd walk out of his office confident in our collective decision and realize in hindsight that John had not actually said all that much, but his contribution made all the difference.
John was an amazing counselor. People from throughout his life sought him out for that reason. He had an amazing ability to listen and process information and then help other people figure things out for themselves. He never pressed his own point of view, he would jus guide the conversation until it came to a solution. You always felt better after a conversation with John.
John wanted to be successful, and he was by every measure, but he also knew what his priorities were and he had a unique ability to resist the temptation that confronts everyone so often – the pursuit of "more" or "what's next." Sometimes we can convince ourselves that by not trying for something more, we have somehow "lost" something we could have had. But we miss the fact that always going for more can involve compromises and trades-offs. John didn't compromise on the things that mattered most…his family, his friends, personal time to relax and enjoy life and, of course, his tequila.
John seemed to truly look at – and appreciate and be content with – the things the he had, and not all the additional things he could have had. In the process, I think he ended up with so much more. As much I miss him as a friend, a partner and a counselor, I try to follow his lead and focus on the time we had and not the time we lost.
Bob Baptist
73 Inwood road is the home of Ann and Walter Flanagan. It is the address where John Flanagan grew up. It is also the place where hundreds of memories were made, and if you were lucky enough to make the turn into the long driveway, I'm certain you can recall more than a few.
When you became friends with John, you were getting more than a friendship with him, you were getting his entire family. A proposition that some might find intimidating but for those of us who welcomed the experience, found it extremely rewarding.
As in any new relationship there are sanctimonious pleasantries exchanged and everyone is polite. This phase was short-lived and completely ceremonial at the Flanagan house. If the Flanagan's opened their door to you, you were family.
I believe I was inducted one night when I stopped over for dinner after basketball practice at Prep. The entire Flanagan clan was present and the normal dinner conversation of how people's day went ensued. Everyone took their turn and it eventually got to me. Before I could get started, Caitlin, who had loaded her spoon with mashed potatoes and peas, flung her spoon in my direction. It was from that moment on that I knew I was an honorary Flanagan.
A stop at the Flanagan's house meant playing hoops in the driveway with Matt and Walter, playing board games (Life) with Eileen, and conversations with Ann and the other girls in the kitchen. It meant always wearing you jacket inside because the furnace would only kick on about a dozen times a year and perhaps a cold libation. There were so many get-togethers and parties and an occasional field trip like a late night showing of the rocky horror picture show with the Owens. The stories of these times together are endless.
One thing I know for sure is John truly loved his family and wanted his friends to enjoy them as well. After four years at Prep, John and I went off to Richmond and our time together there provided even more stories.
Not everyone is lucky enough to have a lifelong friend but I am. John is mine.
I never said goodbye to him in the hospital. I know I will see him again and he is still my voice of reason today. John chose to be thankful for the time he had here. I'm thankful for the time I had with him. And I know we are both thankful for the time we spent at 73 Inwood road.
Tony Jannotta
I was in my second year of law school in 1994, working at what I had hoped would be a dynamic summer internship at the CT Attorney General's office. Attorney General Dick Blumenthal was the star of the Democratic Party and a run for Governor was imminent. Reality quickly set in though as I spent my days researching Indian land claims in the Yale Mudd library.
While taking a break between evening classes to lighten my class load for my third year, I unexpectedly encountered HT Owens. H had just enrolled as a law student at Quinnipiac law school and we knew each other from our days at Fairfield Prep with H being two years my senior. After learning of my "exciting" internship at the AG's office, H exuberantly said, "Have you met Flans? John Flanagan? You gotta meet him because he is Blumenthal's right hand man and you two need to connect".
H helped arrange a meeting at John's office in Hartford at the AG executive offices and when I met John, we immediately hit it off.
John quickly informed me that the AG had just announced his intent to run for a second term for Attorney General and John needed help running the campaign. Knowing the AG would need a constant companion to travel with him across the state (and that John had done more than his fair share of work in this capacity), John immediately welcomed me aboard. Little did I know that the only qualities John was looking for in a campaign staffer was a live body with a driver's license who lived in Fairfield county close to where the AG lived in Stamford. Having easily met the criteria for employment, we settled on a volunteer salary wage and forged a fast friendship.
I quickly learned that being friends with John meant getting to know a sprawling network of his friends and family. I was immediately introduced to the Flanagan family as well as a vast array of politicians, judges and of course a wide ranging group of colorful Prep alumni. I fondly recall barbecues at the Flanagan family residence and countless visits to the Shoe and Duck, as well as parties at John's law school house in Hartford. I might also add this was the same period of time when John met Amanda. As our friendship grew, I can proudly say I had a front row seat while John got married, passed the bar and practiced privately while making the dream of what is now ICR become a reality.
At that time I didn't realize it, but the opportunity John offered was the door that opened my personal and professional career to the world of politics and law. I would go on to become an Assistant Attorney General and Special Counsel to the AG and serve for over 17 years in public service, including 15 years with former AG and now US Senator Blumenthal as well as several years with current Governor Malloy and AG Jepsen -- both of whom I was first introduced to by John. I'll never forget John telling me I had to go drive people to the polls in Stamford in support of the Mayoral candidate who went on to become our Governor. Having now practiced for over 22 years and working as a partner in the largest law firm in the world in the Firm's State Attorney General practice, I still credit John for giving me the break I needed and more importantly friendship and advice that would last a lifetime.
I'm also still proud to maintain many close personal relationships with the great network of friends and colleagues that came out of my friendship with John. I often think that John's spirit and character lives on through the relationships I maintain with so many from the Fairfield Prep and Hartford political circles.
I always had the greatest respect for John and he wasn't just a friend, but also a mentor and older brother in life and politics. He was often quiet and thoughtful, but always ten steps ahead. Smart and personable with his dry, clever wit. Quick to do a favor knowing it would come around when he needed one as well. And always a cool and calm character who inspired trust and loyalty among his peers and friends.
John had a tremendous impact on me both professionally and personally, but then again he did on everybody who was lucky enough to be his friend. I'll always be grateful that I was one of them.
Jim O'Brien
Some of John's cherished friendships were made while he was attending the University of Connecticut School of Law. While John attended law school at night, he was working for Attorney General Richard Blumenthal and was active in Democratic politics across the state. Jim O'Brien worked as an advisor to Republican Governor John Rowland and despite their divergent political views, became fast friends and forged a bond that lasted until the end of John's life. At the time Atty General George Jepsen, was a up-and-coming Dem. Force at the CT Capitol and also a close friend of John's:
"George Jepsen? You must be kidding! He has accused my boss (the Republican Governor) of every malfeasance known to man," I said. I didn't know much, but I knew John Flanagan was wrong on this – maybe he wasn't so smart after all.
"He is part of the opposition...He's doing his job. I am telling you, he is great guy. You should meet him. I will introduce you to him," John repeated back to me. Although I had not known John Flanagan very long, I did trust his judgement. And although I knew that Sen. Jepsen was just doing his job, he did not seem like a "good guy." When John introduced us, Sen. Jepsen stuck out his hand and said "don't worry I don't have horns and I don't bite." I quickly came to realize that John was right about Sen. Jepsen.
What I didn't realize at the time was the reason why Sen. Jepsen was so easy to deal with: John had given me his stamp of approval and said I was "okay." Sen. Jepsen and John had been through many political battles together, and once John told Sen. Jepsen I was "okay" – that is all he needed to hear. That was because people liked John, and trusted him. I liked and trusted him.
I first met John sitting in the back row of a municipal law class that met at night. Next to us were PJ Cimini and Mike Renaud, who was John's roommate at the time. After one of our first classes, John invited me to join them at the Spigot, and a great friendship was born. John had a great way about him – people just liked him. I am not sure what it was. He was very easy to be around. He was smart, funny, and like many Irishmen, a great story teller.

It was not long after I began hanging out with him that we stopped by to see his parents after a pick-up basketball game. We sat and had coffee with them and it was apparent that they were a very close family. His parents were thoughtful, generous and curious. Obviously John had adopted their wonderful traits. We talked for a very long time before John said we had to hit the road. After that one coffee I was invited to family parties and get-togethers, along with many other people the Flanagan's had picked up along the way.

The last time I saw John we had lunch at a deli across from his office, and the conversation continued afterwards in front of his office. An assistant came out and said a client was on the phone – it was an emergency. A reporter had called and wanted to know about the client's "green energy policy." "Well, what is their green energy policy?" John said. That was the problem, the assistant said. They didn't have one. "Well, tell the reporter that." The assistant looked surprised and ashen. "I am only kidding – I will be right in." Relieved, the assistant turned and ran back in the building. With a smile on his face, John turned and said "I'd better go – I have to write up a green energy policy this afternoon."

That was John – irreverent, funny, calm and smart.
Michael Renaud
Background: When fellow law-school friend Michael Renaud read Jim's piece above, Michael sent this thoughtful and heartwarming email below, and gave us permission to share:
Dear Amanda,

I think of John and those law school days often and it's always with a warm memory of times with you, the law school crew, the great Flanagan family and, of course, John in the center of it all spreading cheer and laughter.

While John was all the things that Jim conveyed in his letter, he also had a big heart. When I first got out of law school, I struggled mightily to find a good job and to make my mark as a lawyer. John was the person I relied on to help me "fake to make it" while I learned to be a lawyer. He thanklessly edited my briefs, provided research on legal issues and offered his tireless moral support. I can't count how many times he sent me a fax after hours of a marked up brief or some legal research to bail me out. Frankly, I don't know who else I could have turned to help me the way that John did. I was embarrassed to be unskilled and needy but John always gave his time, respect and guidance. He never refused my requests and never made me feel worse for having to ask for help. I haven't found many friends in my life like that and I am very grateful to have had one in John.

I also remember John, you and the Flanagans with a special fondness during the holidays because it was with John and the Flanagan family that I spent my only Thanksgiving without my family at The Flanagan's house in Fairfield. That's not really true - the Flanagans made me part of the family that day. It remains one of my favorite Thanksgiving memories. Like all of us, I miss him greatly.

Your friend,
Michael